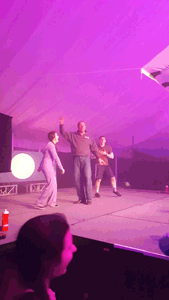 As Block 3 descended into the dregs of mid-2000s pop that are "Rich Girl" and "Dont'cha," Richard Stephens, board member for Blessings in a Backpack, grabbed the show to give a speech of appreciation and put on his most "Glamorous" dance moves.
Stephens opened by expressing his gratitude for the dancers' fundraising work that he said will supply 3.3 million children in need with food for the weekend. He said that by making sure children have the nourishment they need, they can sleep at night and live better lives overall.
"What your efforts are doing is helping them sleep, it's helping them feel loved, it's helping them feel more secure, so they can become the next possible students that come here to this wonderful University," Stephens said.
Flying in from Orlando, Stephens said he took refuge in the sweat-filled haze permeating the Dance Marathon. He said he preferred it to the cold 30 degrees outside.
Stephens relayed a note of thanks from his 13-year-old son, who reportedly also requested that Stephens bring back a bucket of classic Garret Mix® popcorn.
McCormick freshman Ari Jacobson said that message motivated him to dance further.
"We should be inspired, and we're doing this for a great cause," Jacobson said.
After putting down the mic, Stephens brought his dance skills to Fergie's "Glamorous." His dad-like dance moves drew mixed reviews from the crowd.
"It's definitely passable," Jacobson said.