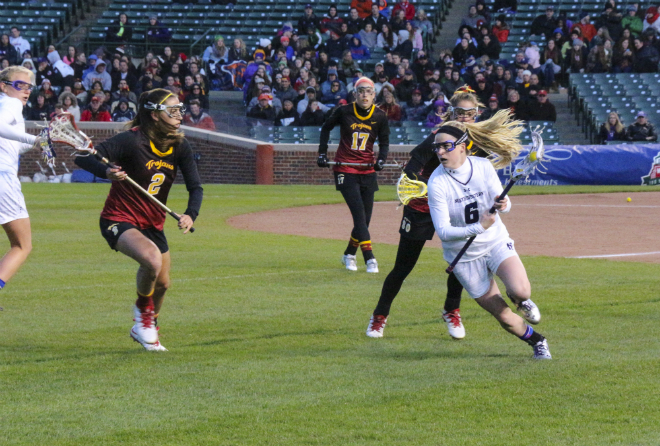 On Friday, the two powerhouse lacrosse programs of the last decade will meet in a Final Four fight to rival a WWE matchup. No. 2 Maryland and No. 5 Northwestern will meet for the first time in two years in an important game for the 'Cats and their postseason ego.
It might seem difficult for Northwestern to prepare to face a team it hasn't played in two seasons, a team with almost an entirely new line-up, but ten years of Final Four appearances certainly don't hurt.
While Northwestern may not have had the best record in the NCAA as in years' past, the 'Cats have something that many other postseason teams don't necessarily possess: experience. The Northwestern lacrosse program is known for its excellent coaching and ability to play when it matters; that legacy does not go away even after a year-long NCAA championship trophy drought.
The last time Maryland won an NCAA championship, it was 2001 and Cindy Timchal, Kelly Amonte Hiller's former coach, led the charge. Maryland was bested in the NCAA Championship game (by Northwestern) in 2012 and the memories of that loss are surely fresh in the minds of the freshmen and sophomores who were on that squad.
And so it seems that the past strengths of these two teams would balance each other out. Northwestern has the last seven of nine NCAA trophies in its trophy case, but Maryland recorded a 19-1 record this season, a No. 2 seed in the tournament and a chip on its shoulder from two years ago. Leaving out these two teams' individual legacies and history with one another, what are the factors that will affect the outcome of this particular game?
Draw controls
Maybe you haven't heard of Northwestern's not-so-secret weapon senior midfielder Alyssa Leonard? She happens to hold the league record for draw controls with 424 over her entire career. For reference, that's 78 more draw controls than Maryland's entire team won over the last year.
It's just as important for those around the circle to be able to grab some draw controls, too, and the 'Cats have several capable midfielders to pick up the slack. Leonard leads the team this year with 160 draw controls – third in the country – sophomore Lauren Murray has 23 draw controls of her own, while senior Kelly Rich and freshman Sheila Nesselbush have 15 and 14, repectively.
Not only does Leonard deliver for the 'Cats, but she has nearly four years of postseason experience and two NCAA Championships under her belt. As a captain presence on the field, that's important, especially for the younger players, such as Nesselbush, who might be playing in their first Final Four. This is Leonard's fourth Final Four – she's got them covered.
Preparation
Every championship caliber team prepares well – that's nothing unique to either Northwestern or Maryland. But junior goalie Bridget Bianco does things differently – because she does them always the same.
At the end of the season, maybe Bianco will consider a washing machine, or at the very least some Febreeze. But until she hoists a trophy, don't expect her to clean up any time soon.
Scoring
It's no accident that Maryland held the best record in the NCAA and also boasted the fourth best scoring offense, which averages 14.82 goals per game. Northwestern, by contrast, ranked fifth by the end of the season but only had the 45th best scoring offense, averaging 11.05 goals per game.
Sophomore midfielder Taylor Cummings is leading the Terps with 59 goals while junior midfielder Kelly McPartland leads the team in assists with 31. Maryland is scoring at 49.5 percent compared to 38.4 percent by its opponents.
Northwestern scores 46.7 percent of the time, so not too far off from Maryland's total. But the 'Cats shoot significantly less often than the Terps do: Northwestern averages 23.3 shots per game, while Maryland shoots 30 times.
Of course, Northwestern counters its high-scoring opponents with a tough defense that specializes in face-guarding top scorers. So Cummings, McPartland, and seniors Beth Glaros and Brooke Griffin should expect to be pestered by Northwestern's defenders for at least some portion of Friday's game.
The women's lacrosse team will put all these strengths to use Friday at 6:30 p.m. on ESPN3 and ESPN3.com