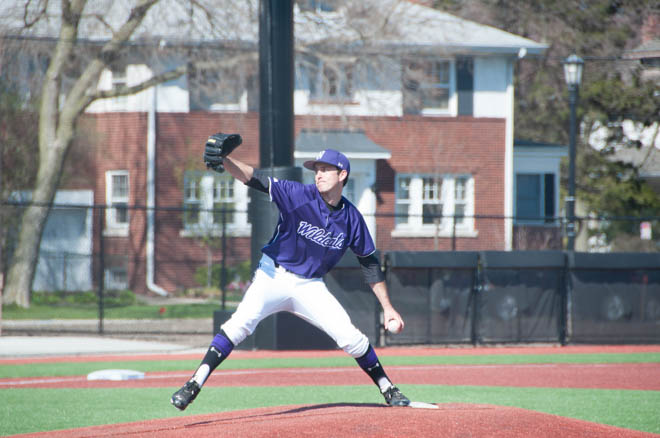 After a brief two-game winning streak on Sunday and Tuesday of last week against Nebraska and Bradley, respectively, Northwestern baseball (9-27, 2-10 B1G) was unable to keep it going this weekend, dropping three straight to Penn State (22-14, 8-4 B1G). The 'Cats have yet to win a home conference game this season, and are now just 2-7 at Rocky and Berenice Miller Park.
Friday's series opener proved to be the most exciting game of the series. PSU got on the board first with a two-run opposite field shot from Willie Burger in the top of the second inning. But the 'Cats had runners on in every inning except the ninth, and were eventually able to tie up the game with an RBI single from Matt Hopfner in the fifth and with an overthrow from PSU catcher Nick Graham that allowed Jack Dunn to scamper home after an attempted steal of third in the seventh.
However, the 'Cats struggled to capitalize on many opportunities. NU left eight runners in scoring position throughout the game, and eleven total, making Reed Mason a hard-luck loser. The senior lefty pitched 7 1/3 solid innings, giving up two runs on eight hits with four strikeouts and one walk. He left with a runner on second in the eighth, and PSU took a lead it wouldn't relinquish on a sac fly by Jim Haley off reliever Mack Rosman. The Nittany Lions added an insurance run in the ninth, and submariner Jack Anderson got the win in a 4-2 game, closing out the last three innings with no hits or runs allowed.
Saturday's contest was considerably less close. PSU grabbed an early 2-0 lead again, and kept the 'Cats off the scoreboard until the fifth inning once again. But by the time NU had scratched out a run, Penn State had a commanding 6-1 lead. The Nittany Lions cruised to an 8-2 victory, with Willie Bourbon's 2-for-4, one RBI game serving as the lone bright spot for Northwestern.
The final game of the series was a back-and-forth affair early, but as they had done all series, the Nittany Lions poured on at the end for an easy victory. Again Penn State hopped out to a 2-0 lead (this time in the first inning), but this time the 'Cats responded immediately, grabbing back a 3-2 lead in the first inning with three RBI singles from the middle of the order. Unfortunately for NU, that's all they could muster. Penn State outscored Northwestern 9-0 over the rest of the game, and left Evanston with a sweep of the reeling 'Cats.
NU will take on metro area rival Chicago State on Tuesday before heading back to Rocky and Berenice Miller Park in search of their first home conference win(s) in a three-game series with Minnesota.