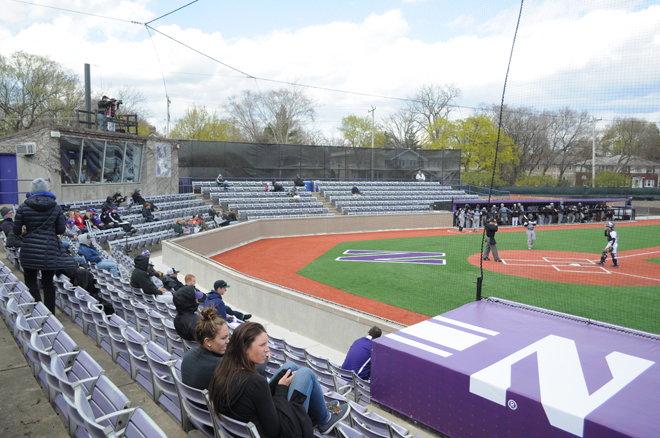 In its first two home games of the season at newly-renovated Rocky Miller Park, the Northwestern baseball team (13-26, 4-8 B1G) emerged unscathed, sending the University of Wisconsin-Milwaukee Panthers (23-13, 9-8 Horizon League) home with their tails between their legs 9-5 on Tuesday and dousing the UIC Flames (18-16-1, 13-5 Horizon League) for the second time this season 6-4 on Wednesday.
On Tuesday afternoon, a 20 mph wind was blowing out and the 'Cats and the Panthers rode it, putting on an offensive fireworks display with a combined five home runs, two of which came in NU's first at-bat. The 'Cats jumped out to a 5-1 lead with a two-run shot from junior Zach Jones and a three-run job by junior Jack Mitchell. But the Panthers clawed their way back in, chipping away and eventually tying the game at five with a solo jack by Sam Koenig. Things were starting to look slightly precarious for Northwestern, but after grabbing a 7-5 lead with a run in the fifth and seventh innings, sophomore Joe Hoscheit put a high fly ball up into the wind and watched it sail out to left to extend the lead to 8-5 in the seventh. NU tacked one more on in the bottom of the eighth to put the game on ice and cruise to a 9-5 win.
The next day, the 'Cats had to work a little harder to come out on top. Despite a solid opening offensive attack by the 'Cats, the Flames scored in their first three at bats to grab a 4-2 lead through three innings. NU got one run back in the bottom of the fifth, but UIC still held the lead until the eighth inning, when the Cardiac 'Cats came out to stake a claim to their fancy new turf field. A two run single by Hoscheit gave the 'Cats a 5-4 lead they would not relinquish. They tacked on another insurance run in that inning and junior Matt Portland worked around a leadoff walk to clinch a season sweep of the Flames and midweek sweep of two Horizon League opponents.
NU will be back in action starting on Friday when they welcome the Ohio State Buckeyes to town for a three-game conference series.