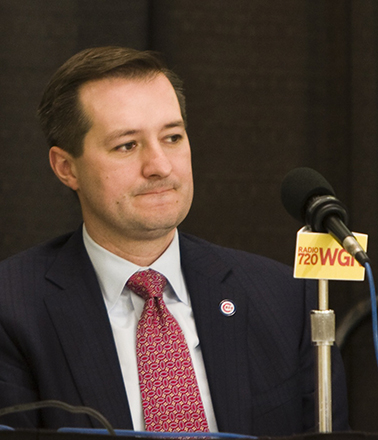 At the very beginning of Block 5, the dancers at DM were greeted in video form from the owner of the Chicago Cubs, Tom Ricketts. Here's five quick things you should know about him:
He got his Bachelor's and MBA degrees from UChicago, in 1988 and 1993. He now lives in Wilmette, but he is originally from Nebraska.
Along with his father and brother, he serves as director of TD Ameritrade Holding Corporation, the company his father founded and owns.
He and his family bought the Cubs in 2009, making a bid of an estimated $900 million and paying roughly $642 million. Seven years later, the Cubs won their first World Series since 1908, beating Cleveland in seven games to win in 2016.
In September 2016, his father Joe pledged $1 million to Donald Trump's presidential campaign, despite enduring criticism from the future-President about the family's support for Wisconsin governor Scott Walker. Tom did not comment on his father's political change of heart.
With regards to Trump's win, Ricketts, a moderate Republican, said, "I'm in the time-will-tell camp. I'm not a big financial supporter to either side. I vote Republican in general, but I'm open-minded. Hopefully something good will happen for the country out of this. Hopefully everyone will come together with good ideas and will get some positive things done."