Chris Collins has done a hell of a job in his five years at Northwestern — so much so that Wildcat faithfuls were disappointed in last year's mediocre 15-17 season. To get the program back to the heights of 2016-17, Collins will have to work some magic with this year's squad, especially given the lack of experience the 'Cats bring to the table. The golden years have officially ended with the departures of Scottie Lindsey and Bryant McIntosh, and it remains to be seen how the 'Cats will rebound.
Let's knock out the two obvious starters; barring an incredibly hot hand or an ill-timed injury, Vic Law and Derek Pardon will be the starting three and five, respectively. Law was probably the team's best player last year, capable of guarding the opposing team's most lethal perimeter scoring threat while finishing second on the team last season with a .383 3PT%. Although he showed flashes of high-volume scoring, particularly in his 30-point outburst against Creighton, Law struggled to create his own offense in an offense dominated by McIntosh and Lindsay. Pardon paced last season's squad with a .619 FG% and 7.1 RPG. His offensive rebounding and finishing around the rim will be critical for a squad that will hoist (and probably miss) a ton of threes.
Both players have looked solid in the first few games of the year. Neither player appears to be a de facto number one option on a Big Ten contending team, however, as Law may struggle with difficulties creating his own shot against higher-caliber teams while Pardon operates exclusively around the rim, even if he showed signs of a budding mid-range game last year. At the same time, pencil these two in as starters for the rest of the season.
The loss of McIntosh and Lindsey leaves the team badly depleted at guard, especially once Northwestern revoked point guard-of-the-future Jeremy Lathon's admission in May. Here is where Collins will do his most tinkering: both starting guard spots will essentially be composed of Anthony Gaines, a sophomore who has only started 5 games in his career; Ryan Taylor, a graduate transfer; and Jordan Ash, a junior who averaged 2.1 PPG last season.
It remains to be seen how Collins will toggle these lineups; in terms of raw firepower, Taylor is the most effective offensive threat after posting 21.3 PPG, including a .424 3PT%, and having started the year off with 12.3 PPG and a .364 3PT%. Expect him to get the lion's share of guard minutes, especially if paired with the more defensively stout Law and Gaines. Taylor is a bit defensively hamstrung, though, with just 0.2 blocks per game despite his length. Collins may turn to Ash, who is a solid defender but has yet to determine an offensive identity for himself after having played in McIntosh's shadow. This is Ash's year to step up for the Wildcats, and Taylor presents a strong complement to his skillset.
The last starting spot should go to Anthony Gaines. Collins began trusting the sophomore down the stretch last season, and Gaines markedly improved his defending and finishing. Along with Law, Gaines can defend most positions on the court, but he will need to improve his creativity with the ball to maximize his potential.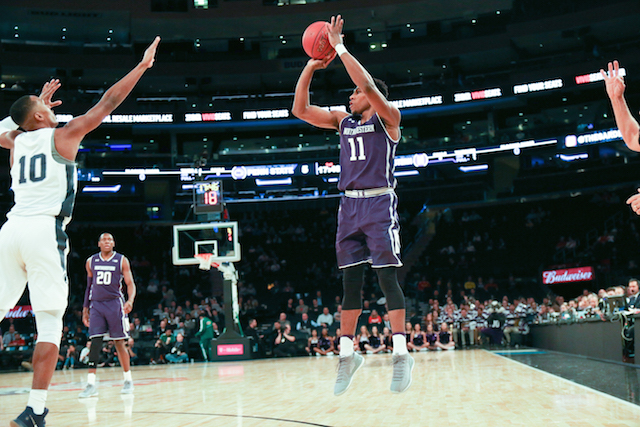 This year's bench has the potential to be much deeper than last year's, provided the freshmen can transition smoothly into the college game. 6'10'' Junior center Barret Benson appears primed to backup Pardon at the five, although he has shown little offensive or defensive output in his two years at Northwestern. He exploded for 14 points and 12 rebounds in 27 minutes against Binghamton, but time will tell if this was just an outlier or his coming-out party. Collins experimented with twin towers lineups with Pardon and Benson at the end of last season, but Benson will need to develop his offensive touch before those lineups generate offensive production.
Forward Aaron Falzon should challenge for game time after a disappointing campaign last season that was mired in injuries and poor shooting. Falzon was initially projected to take over at the four from Sanjay Lumpkin, but recently-departed Gavin Skelly replaced him before Falzon could assert himself. Falzon was a solid 3-and-D player pre-injury, but he lost his shooting touch last season especially below the arc; his .273 shooting percentage was the worst of any Wildcat. AJ Turner is the last returner to keep an eye on, and he provides defense, length, and scoring at the wing. He hasn't played since the 2016-17 season with Boston College, but he offered enough glimpses defensively and with shooting beyond the arc (37.4 3PT%) to merit serious minutes this year at power forward.
Pete Nance, Miller Kopp, Ryan Young, and Ryan Greer are the freshman to keep an eye on — Nance enters this year as Northwestern's top recruit, and in his debut he electrified Welsh-Ryan with a break-away dunk that demonstrated his tantalizing potential. Nance will get a shot at forward with his creativity and passing ability, but although he's listed at 6'10'' and (a generous) 210, he looks as if he hasn't built out his frame. With time, he may challenge for a starting role alongside Pardon in the frontcourt. Kopp shoots the 3 well for a shooting guard but has the body of a forward, so Collins can use him as an interchangeable piece on offense, especially if he can effectively attack the rim or play from the post. Greer may get looks at point guard if injuries befall the 'Cats or if nobody steps up among the primary ball-handlers. Young may redshirt his first season as he gets familiar with playing at the college level.
Collins will have to mix and match his lineups to find the right combination of creativity on offense and tenacity on defense. He has the perimeter defenders in Law and Gaines, but his lack of size down low leaves the 'Cats open to bigger centers (think Isaac Haas or Mo Wagner), while Law may have to shoulder a higher scoring load along with Taylor. It will be up to a series of unheralded and inexperienced players to push the 'Cats over the hump, but with the top recruiting class in Northwestern history and the return of Law and Pardon, Collins has the pieces for another successful run.