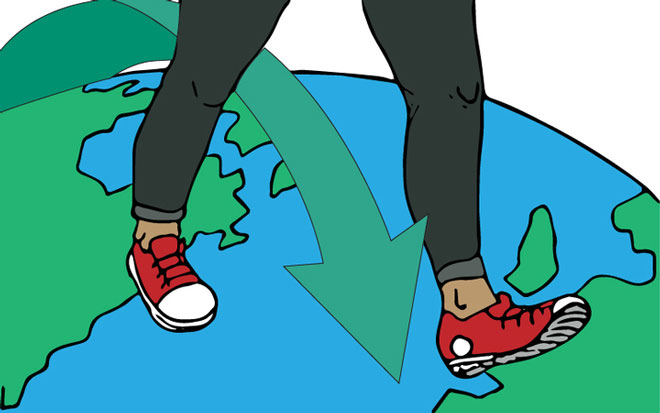 By this time of year, most students who were high school seniors just a few months ago are well into their college transition. Among their ranks, however, are a number of current college students who are just beginning school at a different university.
According to a 2012 report in the Chronicle of Higher Education, about a third of undergraduate students transfer from their original institution before graduating. While many are able to find a good fit on their first attempt, others reconsider their choice and often choose to apply to other universities as a transfer student.
Roughly five percent of undergraduates at Northwestern came here as transfer students from previous universities in 2016, amounting to about 104 students per graduating class. The selection process for transfer students is competitive; according to Northwestern's website, the university accepts about 15 percent of transfer applicants each year on the whole, a rate which marks Northwestern as competitive, though less so than the majority of Ivy League and other top-ranked universities.
The idea of uprooting yourself and starting over after a year or more at a prior college may sound less than ideal. Many students who transfer to Northwestern cite the desire to pursue particular academic opportunities and dissatisfaction with their previous college as reasons for transferring.
Cara Lewis, a Weinberg senior majoring in anthropology, felt isolated and at odds with the social culture of University of Massachusetts, Amherst, where she spent her freshman year. Lewis applied to 10 schools as a high school senior from Massachusetts and was accepted at all 10; she chose to attend UMass Amherst, her last-choice school, due to the comparative low cost of attendance and financial aid package.
"I think the thing that I liked least about UMass was the school culture," Lewis said. "What I was around was very party-centric, and I didn't like that because - I don't mind if people want to party, but if that's the only thing that you're at college to do, why are you at college? Like why would you bother to go?"
Lewis came to Northwestern in October of her freshman year to visit her then-boyfriend and found herself enamored with both the campus and culture, which she said resembled what she that thought college would be like.
"I was staying in a freshman dorm [at Northwestern], and people were having different kinds of conversations," Lewis said. "People were talking about things they were actually interested in or studying or things that they cared about, and none of that was about partying - they mentioned that, but it wasn't the focus of their experience."
Upon returning from her visit, Lewis became "increasingly frustrated" with the difficulty of finding friends among UMass Amherst's 23,000 undergraduates, as well as the ubiquitous party scene.
"It affected a lot of my life – I would lose sleep because people would be running down the hallway drunk and yelling at 3 a.m. on a Wednesday," she said.
Lewis eventually decided to apply as a transfer student to Northwestern as well as one other school, and received financial aid from Northwestern that was similar to what she had been offered from UMass. While she had only a few acquaintances at Northwestern upon arriving as a transfer sophomore in the fall of 2015, she was quickly able to make friends and take courses in anthropology and legal studies as she had at UMass.
Many schools like Northwestern have begun devoting resources to students from non-four year college backgrounds or with financial need who are accepted as transfer students. Last year, Northwestern became a partner school of the Chicago Star Scholarship program, which provides scholarships to high-achieving students who transfer from one of the seven community colleges in the City Colleges of Chicago network. Two Chicago Star Scholars, brothers Naeem and Nadeem Patel, were accepted as Northwestern transfer students this year, and joined the Class of 2019 this fall.
While many first-year students find Northwestern to be the fit they'd imagined during the college search, some students do choose to transfer out of Northwestern each year. The average college retention rate, or rate at which freshmen return for their sophomore year, is 64.2 percent for all public colleges and 70.2 percent for all private colleges. Northwestern has a first-year retention rate of 97 percent, comparable to that of most Ivy League and other top-ranked schools.
Among the students who transferred out of Northwestern last year was Natalie Dix, a sophomore theater major from New Jersey who now attends The Lir Academy at Trinity College in Dublin in the fall. Dix withdrew from Northwestern after Fall Quarter last year after academic stress caused her mental health to slowly deteriorate.
"When I first applied to college, I knew I wanted to study theatre and acting, but I was torn between a conservatory-style program and a liberal arts program where I could have another major and pursue other interests," Dix said. " I was so overwhelmed by the bare minimum of my requirements for my own major that pursuing a second one or even a minor seemed impossible, and the more time I spent performing, the more I realized it was all I really wanted to do. I was miserable when I wasn't doing performance-related work, but I only had performance classes a few times a week."
For Dix, the academic rigor of Northwestern was all-consuming and left little time left for extracurricular involvement in theater. While she had initially planned on finishing out her sophomore year before transferring, she realized the true extent of her unhappiness at Northwestern over winter break, and elected to take time off instead to focus on her transfer applications and auditions.
Dix believes that the conservatory model of theatrical training will better suit her needs, and that her particular school of choice, The Lir National Academy of Dramatic Art, will be a significantly better fit.
"[When] I decided to switch from a liberal arts college to a conservatory, I knew I'd have to start over as a freshman wherever I went," Dix said, "so I mostly applied to schools outside of the U.S. because they tend to admit people closer to twenty more often than they admit kids right out of high school, so I would feel less out of place."
Because the Irish drama program takes only three years to complete, Dix will graduate in 2020, only a year after she would have at Northwestern despite starting over as a freshman in Ireland. While she expects her new school to be quite rigorous, she is excited for the specialized, performance-centered rigor of The Lir rather than overwhelmed by the academic rigor of Northwestern.
Dix, like Lewis, found something lacking in their experience at their first choice for college. For Lewis, it was a social mismatch, while for Dix, it was more academic. No college is a one size fits all, each college experience is different, and should be treated as so. In the end, it all comes down to what students want out of their college experience.
"I'm not worried though since I know I'll be doing what I love all day, every day," said Dix, "rather than spending all my time stressing about academic work and deadlines."