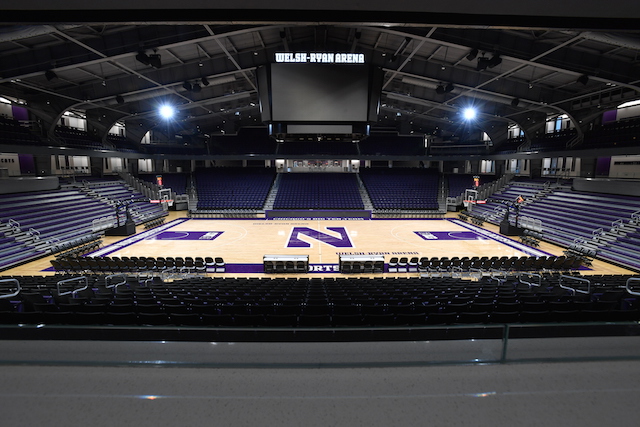 After almost 20 months of construction, the new Welsh-Ryan arena has finally been unveiled. The arena — which will be used for basketball, volleyball, wrestling and more — was designed with winning in mind. Holding just 7,500 fans, each seat feels as though it is right on top of the court, especially the student section, which features prime seating right on top of the action in the endzones.
"Not only is it beautiful with all the bells and whistles that new construction brings, but we feel like we've really captured what we wanted to do with the building, which was to make it a very tough place to play for opposing teams," said Chris Collins, head coach of the men's basketball team. We think it is going to be a loud, very raucous building, that hopefully will give us a great home-court advantage this year."
Players and coaches alike agree that Welsh-Ryan will create a home-court advantage like no other. During the 2017-2018 season, home games were played in Allstate Arena in Rosemont, Illinois, a 45-minute bus ride from campus. The team ended the season 11-6 at home, a significant step back from their 14-4 record at the old Welsh-Ryan in 2016-2017. With the team's return to Evanston, fans (and players) will have a shorter commute to the game, hopefully helping the team recover from a brutal seven-game losing streak to end last season.
"[I am most excited for] the fans, just having that home court advantage… Having all of our fans, all our students, all our friends there, is just going to be an amazing atmosphere. I feel like at Allstate, it was a great arena, but the commute for a lot of students and a lot of our fans from Evanston was kind of hard, so we didn't have that so called 'home-court advantage' that we had in 2016," senior captain Dererk Pardon said.
"Not having to go all the way out to Rosemont will be nice… and just feeling like the home atmosphere and the buzz of campus before a game, and getting in there and seeing all the fans… I want to thank Rosemont for opening up their court to us, but I think it's really good to be back in Evanston," senior captain Vic Law said.
Throughout designing and constructing the arena, donors and other major players in the process visited arenas across the country to ensure the arena was the "best of the best," according to the Associate Director of men's basketball, Ray O'Connell. "They went around and did their homework and their research. They went around to a number of the arenas around the country and figured out what is the best of the best and took that and used it to put into this new plan. his is going to be one of the best arenas in college basketball."
The renovation of the arena will benefit not only players, but fans as well. According to Northwestern Now, the number of bathroom fixtures in the arena has increased by more than 270 percent, while concessions points-of-sale have increased from 8 to 36. Fans, who will be able to return to their seats (which are now chair-backed — except for in the student section) faster and miss less game play, are clearly just as excited for the new arena as the players. There was a waiting list for season tickets this year, and the first exhibition game against McKendree was nearly sold out.
"I think the arena speaks for itself, just with everything we have done… we made it state of the art. I think the anticipation and excitement is something that kind of takes care of itself," O'Connell said.
Totaling $110 million in renovation costs, the new Welsh-Ryan is expected to enhance what Northwestern can offer to possible recruits. The renovation includes an updated practice facility next to the arena, the Trienens Performance Center. According to Northwestern's "We Will" Campaign, the new facility will include a fieldhouse with three courts, larger team locker rooms, training and rehabilitation amenities, strength and conditioning facilities, expanded nutrition areas, team meeting rooms with new technology, offices and staff locker rooms.
"It puts everything in one spot. It streamlines everything, so [players] are not wasting five minutes going from the training table to where [they] eat, to the locker room, to the gym, it's all in one spot, and it is all in their spot," O'Connell said.
So far, both the men's and women's basketball teams are undefeated at home. With an arena like Welsh-Ryan, Northwestern fans and players can expect a transformed game-time experience.
"Fans need to forget everything they think they know about the old Welsh-Ryan," O'Connell said.