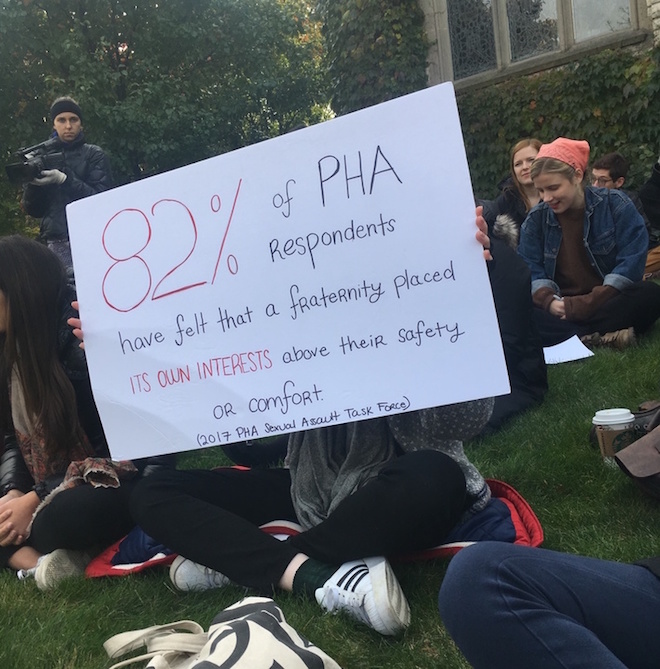 "First of all," said Communication junior Lindsey Weiss to cheers and snaps as they addressed a crowd of protesters carrying signs, "fuck SAE."
About 40 students gathered across from the Sigma Alpha Epsilon (SAE) national headquarters on Friday afternoon for a sit-in on the lawn to protest inaction from the University on the subject of sexual assault and a culture within fraternities that propagates sexual violence.
"We're going to occupy the space in front of SAE national headquarters to let them know that we're here, we're present, we are pissed the fuck off, and no matter how hard they try, they can't ignore the fact that we exist," Weiss said.
SAE has been the subject of controversy and public outrage on campus since February of this year, when four women reported to the Sexual Harassment Prevention Office that they had been given date-rape drugs at a party hosted by SAE. Two of the women believed that they had also been sexually assaulted. The University closed its investigation into the reports in March, but suspended the chapter in April for hosting social events with alcohol.
The protest was organized by Weiss and Communication senior Mia Weed. Weed said that the demonstration was held in response to the University's clarification last week that despite the Interfraternity Council's (IFC) decision to derecognize SAE until 2021, the chapter would be allowed back on campus in fall of 2018 if it successfully completed its suspension.
Given IFC's decision to derecognize SAE, the chapter will no longer be subjected to the rules and regulations to which other fraternities are held when they return in 2018, which many students fear will lead to a more dangerous environment.
"If I could change the situation, I would have had [IFC] reverse their decision, so that there would at least be more regulations on [SAE] when they came back," Weed said, "but I don't think that the initial decision [by IFC] was wrong; I think that the decision [by the University] to have them come back with less regulation is wrong."
On the lawn of SAE's headquarters, students spoke about their experiences as survivors of sexual assault on and off of Northwestern's campus. A few publicly named the men who they alleged raped and sexually assaulted them. One student spoke of her anguish as a survivor of sexual assault when her friend joined SAE last year, despite the public outcry against the chapter.
Weiss said that the Title IX process can be "daunting" for someone who has been sexually assaulted, and that the definition of sexual assault established in that process is too narrow, leaving some survivors without a formal recourse.
"The University can and needs to remove so many of the institutional barriers that survivors face when coming forward," Weiss said. "The University needs to be cultivating a culture on its campus where having experienced a sexual assault does not make the survivor the person who is stigmatized. Survivors need to feel safe to report their sexual assaults in order to facilitate the removal of the perpetrators."