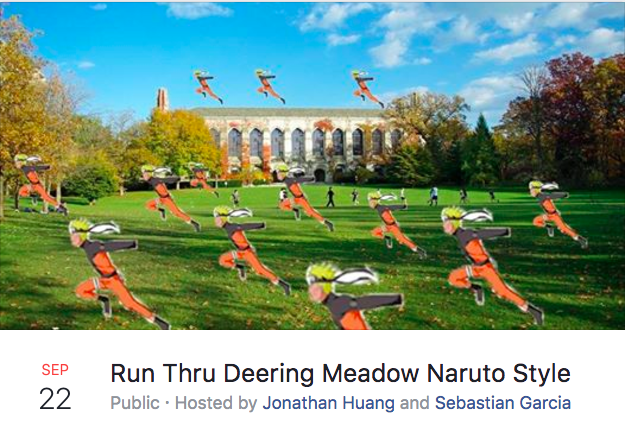 Did you receive an invitation last month to a Facebook event titled "Run Thru Deering Meadow Naruto Style"? If so, you're not alone.
More than 2,000 people, mostly Northwestern students, responded "going" or "interested" to the event created on Facebook on August 8th. No, it's not a running competition of any kind as you might imagine. Rather, two seniors, Jonathan Huang and Sebastian Garcia, created the event as the latest iteration of a meme that has blown up in popularity on college campuses over the past few months. At schools such as the University of Michigan, Georgia Tech, MIT, NYU, and Boston College, similar Facebook events have popped up, referencing the distinctive running style of iconic anime character Naruto Uzumaki.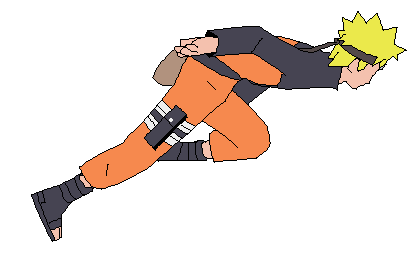 "I initially didn't expect this kind of love for Naruto," said Huang. "But I'm so happy to have seen it take off."
Similar "Naruto Run" events on other campuses have received thousands of RSVPs on Facebook, drawing from the power of early-2000s television nostalgia as well as the internet's insatiable love of weird, specific trends. While the main attraction of the meme appears to be the Facebook events themselves, (with most "attendees" marking themselves as "going" or "interested" ironically), some runs have attracted sizeable crowds.
As for Northwestern's "Naruto Run", up to thirty people did in fact gather at Deering Meadow on Friday afternoon, including several members of the Men's Basketball team. Their run, in all of its memetic glory, was captured in this video.
"I was definitely not expecting [the Facebook event] to become as big as it did," Garcia said. "And when it did become big, I was not actually expecting very many people to show up. I was happily proven wrong."