Insomnia Cookies, a chain of bakeries famous for their late-night cookie deliveries, opened this past Friday at 1725 N. Sherman Ave. Located next to Unicorn Cafe, the bakery is a quick 5-7 minute walk from most of South Campus. Luckily, if you're on North Campus or just don't want to walk, Insomnia Cookies can also deliver online orders within 30-45 minutes. From classic cookies to brownies, there are many sweet combinations available to be ordered. With grand opening flyers and coupons around Norris all week, it's easy to start your Insomnia addiction – sometimes for free. However, if you don't know where to start, we tested out some delicious options and gathered a few helpful cookie hacks and tips for all the Insomnia virgins out there.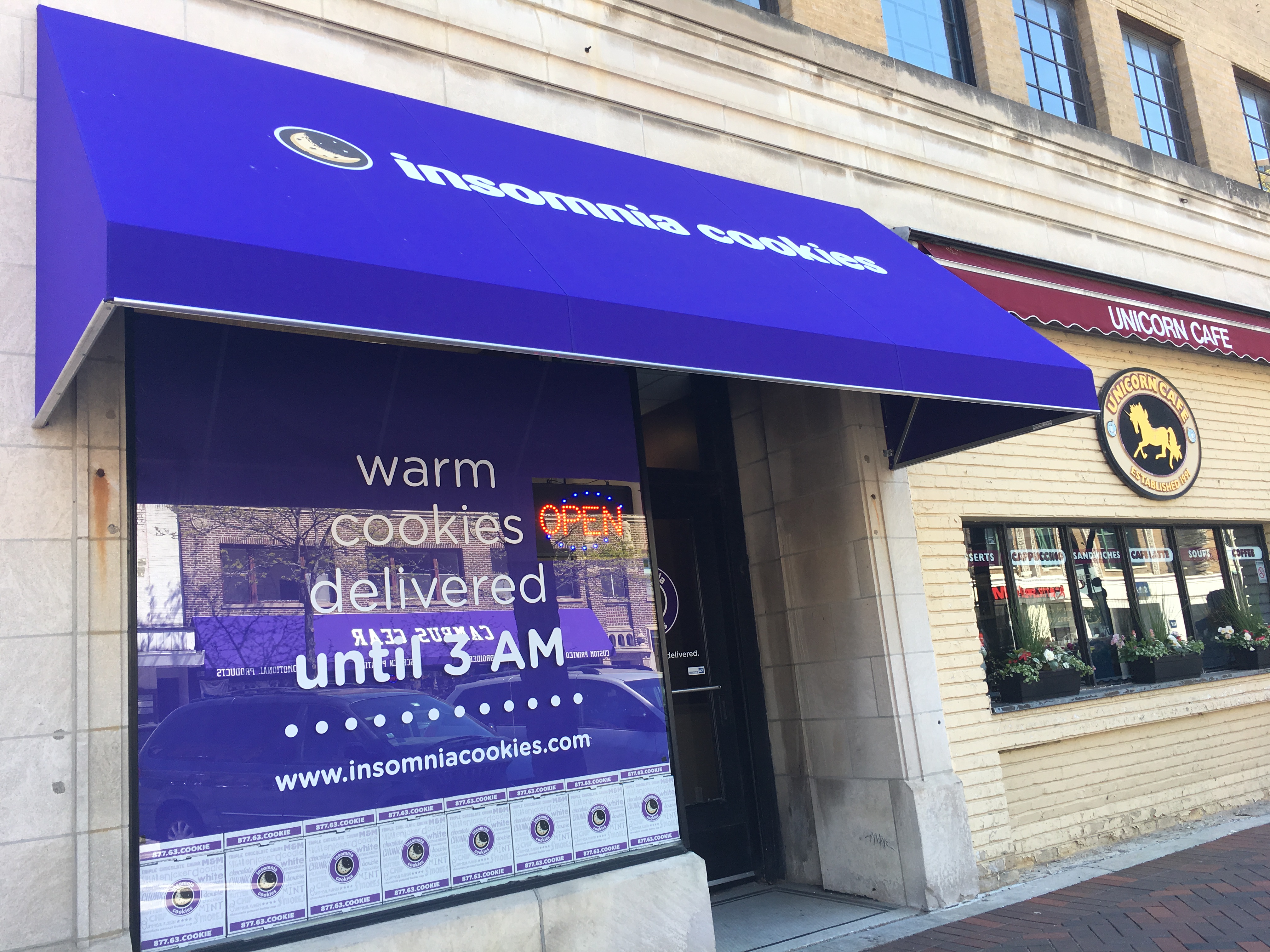 Delivery deals
Have you ever wanted a warm cookie (or 4) while studying for a midterm in the middle of the night? Since Insomnia Cookies is open every day until 3 a.m., you can make your dreams come true without ever having to leave your dorm. But you don't have to spend a fortune to fuel your cookie cravings. Every week, there are delivery deals on the Insomnia Cookies website and social media accounts to make your midnight snack worth it. These deals, like a delivery of three Chocolate Chunk Cookies for $3, are especially great, since the delivery minimum is usually $6.
The Sixpack
If you and your friends are all craving cookies, try ordering The Sixpack. The Sixpack deal is an order of any six traditional cookies for a cheaper price than buying six individually. Available for both delivery and in-store orders, you and your friends can split the $9.25 cost instead of the $9.90 it would have cost to order six cookies individually. It may not seem like you're saving much, but we all know how crucial those 65 cents are to college students.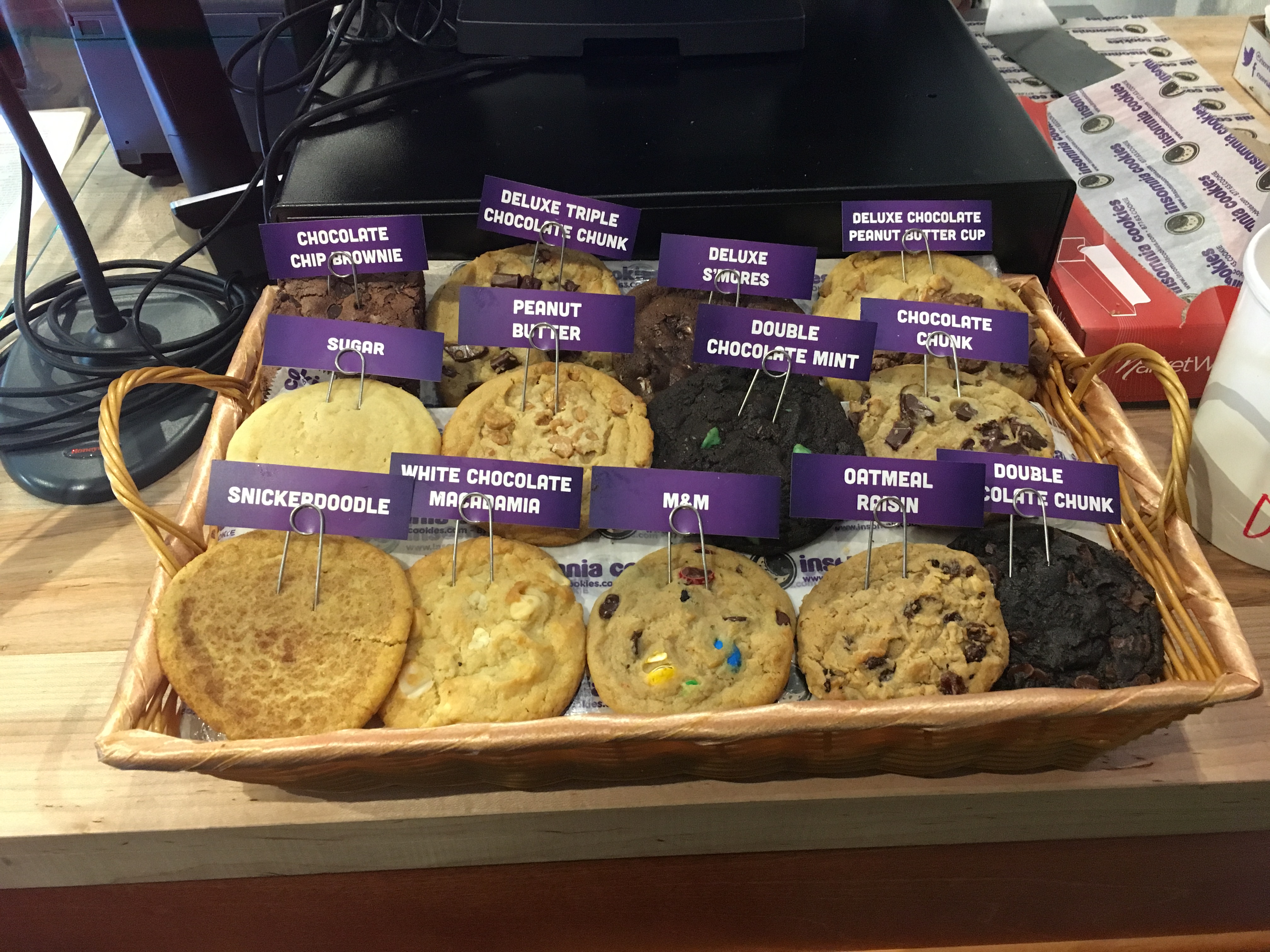 Cookie cakes
Cookie cakes are a little-known Insomnia Cookies special. A normal cookie cake is $22, while a mini cookie cake is $11.99. This treat is perfect for the next time you want to surprise your sorority little or don't know what to get your roommate for their birthday. There's a 100 percent guarantee that the taste will take you straight back to elementary school.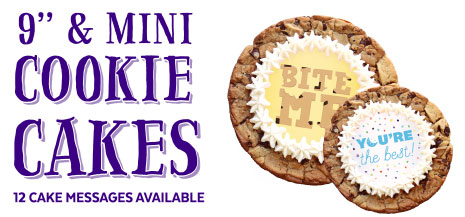 Cookie combos
After witnessing at least four people order a Cookiewich while waiting in line, I quickly realized that the Cookiewich, two cookies with ice cream in the middle for $5.80, is an Insomnia classic. As I watched Cookiewich after Cookiewich being made and I studied the menu, I came up with a few delicious creations. For Thin Mint Girl Scout Cookie lovers, you can order two Double Chocolate Mint Cookies with chocolate ice cream. For a combination that is sure to taste even better than a Reese's Peanut Butter Cup, another popular duo is two Peanut Butter Chip cookies with chocolate ice cream. Personally, my favorite combination is two Snickerdoodles with vanilla ice cream. The warm cinnamon and cool vanilla literally melted in my mouth. But with so many delicious options, it's almost impossible to go wrong. Just be prepared to experience the biggest sugar rush of your life.