In a school of constant renovations and rebuildings, no sense of familiarity is permanent. Three dining halls (Elder, Foster-Walker Complex and Allison) will be closed in alternating quarters this school year to undergo renovation according to a Residential Services email sent in mid-September. Everything from tables to soy milk could be moved to new positions. What were the technical purposes of these renovation choices, and how have they affected the pedestrian flow and efficiency?
Sargent is the easiest case study, as it concluded renovations before Wildcat Welcome, with its most drastic changes being expanding the high top tables, relocating the salad bars and constructing a wooden divider.
"We bring in really the industry experts who specialize and design for university service locations. We reengineered seating to allow for better flow, occupancy and efficiency," said Georgene Sardis, Marketing Director for Northwestern University Dining.
Experts such as those used for the new layout analyze consumer spaces using the queueing theory. "Queueing theory is the study of how lines form and the management of those lines," said Kellogg professor Martin Lariviere. Using this theory, experts consider factors such as the randomness of how people interact in consumer spaces and how service is given. For example, how students would move from salad to drinks to tables.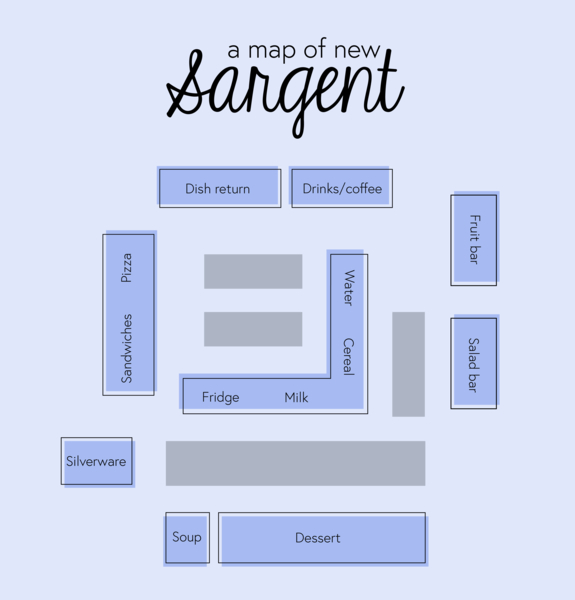 Sardis said a concern for the redesign was the high volume stress point where service stations end and the salad bar once began. To clear the station exits and allow for better traffic flow, Compass moved the salad bar to the far wall, and nested the cereal, toasters and milk inside what Sardis refers to as a "nook." Compass' next step will be to transfer the coffee station to the nook as well – the logic being less congestion by the soda fountains during peak lunch and dinner times.
And although students may have farther to walk to grab a bowl of Lucky Charms, the distance will benefit their objective to find a seat.
"If things are spread out so we don't have everyone following the same path, it's spreading out where they're starting their search for a chair," said Lariviere. Therefore, students won't crowd into the first available tables after the station exit, causing congestion.
"It's gonna make it easier to find a table," said Lariviere, "it's gonna make it much more awkward to break up with your boyfriend."
And the seating options were not haphazardly chosen. Compass considered industry trends indicating customer preference for counter height seating. High tables in and along the nook add additional seating that is more casual and easier to accommodate groups of ones and twos than the standard seating that lines the rest of the room.
However, there were technical pros to the old layout that got lost in the new design. Now, refilling the salad, fruit and cereal for the dining employees is a longer chore in both distance and time.
"I see that initial layout as making it most efficient for food service, for the people working the kitchen," said Lariviere when examining pictures of last year's layout. "Minimizing the amount you have to travel simplifies life and you're not crawling over sophomores to bring out more lettuce."
Even with all this forethought of optimizing flow, high meal times at Sargent still get crowded. It is not uncommon for two lines trailing back to the Grill and swipe-in station to then merge into one at The Kitchen, the source for the majority of main and side options. Students in these lines can block access to Pure Eats, sauces and premade Grill options.
Despite this, Lariviere argues that in the trade-off between a larger service area and available seating, the current layout is as logical as the space allows.
"The idea of staffing up to handle this 20 minute wait that drops off when people get to class is inefficient," said Lariviere. "It's much more efficient to make the 19-year-old wait."
Although she recognizes the merits, Medill sophomore Lark Breen believes there is too wide of spacing between food and utensils, and the drastic change from last year's one-loop structure has brought confusion in human interaction. "Yes, the lines haven't been as long as last year," said Breen. "But physically you run into people more often now with this layout where you kind of have to go back and forth for things."
Sophomore Sharlene Burgos also has her complaints, but overall likes the redesign. "I think it's really nice but there's still not enough seating at all," said Burgos. "It's really weird that they have the fruit bar kind of like in the middle. It's just out of place."
So next time you make your way from the soup station to the cereal dispensers, remember how you queue and eat has been affected by the forethought of Compass advisors.